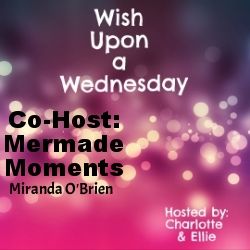 Miranda & I have been bloggy friends for a couple months now :)
I love her blog about life moments and crafts!
So this week, I'm gonna start off with some wishes without pictures:
1.) I wish my hair dryer cord wouldn't get so twisted all the dang time.
2.) I really wish I was a cleaner person when it came to my office and my room...such a mess.
3.) I wish this 5k thing was over already, I have no time to myself.
4.) I wish someone would give me a bucket full of money.
Oh and we can't leave out this sweet face:
Link up with us! What are you wishing for?
01. Follow your hosts (&cohost) with Bloglovin', GFC, and/or Twitter
02. Leave a comment so we can all follow back
03. Grab the button and add it to your weekly wish list post
04. Answer this, "What are you wishing for this week?"
05. Visit the other bloggers who have linked up and comment on their post
06. Tweet, pin, and share the blog hop to help us grow as big as possible!
Interested in co-hosting? Send us an email!
Charlotte's email: velvetandvinylscom@gmail.com
Ellie's email: sh21fhl@gmail.com