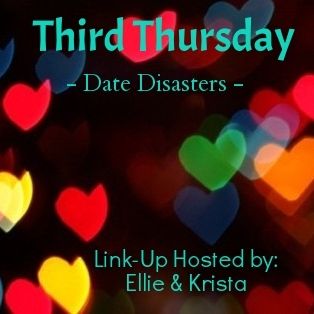 I think the best way to laugh is by remembering these horrible dates... yes, plural, as in more than one.
I honestly need to laugh right now, and this link-up arrived just in time this month!
I would love to hear some of your bad date stories! Link up with us!!
This one time a guy I had met through Christian Mingle said that he had a special talent. He said that he could sing, and other people tell him alllll the time that he was so good and needed to try out for American Idol or something. He then proceeded to show me his YouTube channel. I really wish I didn't have to be so confidential, because I would TOTALLY link his "music" videos. He.was.horrible.
The video he sent me was of him singing "Strangely Dim" by Francesca Battistelli. Why this song? I have no idea. So, I felt terrible for the guy and I agreed to let him take me out to dinner one day. He drove about 3 hours and took me to dinner. It was okay, but I totally wasn't feeling it.
I felt comfortable enough to have him come watch a Redbox movie at my apt (no worries my brother was there so we weren't alone). Then after the movie he tells me that he is too tired to drive home and asks if he can stay the night...wtf really?
I made him sleep in his car. I was not letting someone stay overnight INSIDE my apt. Are you insane?! You don't just invite yourself to stay the night. So the next morning he had to knock on my apt door to ask me to go to breakfast. Morning breath was HORRIBLE and after breakfast he tried to kiss me. No thanks...buh bye. Be on your merry way!