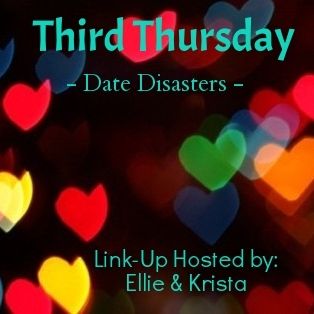 It's our second time hosting the Third Thursday link-up with Date Disaster stories!! Link up with us :) Stories can include embarrassing moments on your end or the other person's end. Or maybe you just have a really funny story that happened during a date! Laugh along with us :)
So last year, on family vacation, I wanted to see what type of response I could get on POF or Tinder. I tried my hardest to display my profile in a way that sent out the message that I did NOT want to hookup with anyone while I was in town, but I just wouldn't mind having a beach buddy while I was there. Just someone to hang out with, maybe drink a few, casual, friendly... So unrealistic. I had so many creepos wanting me to drive to their place to hookup..lame.
There was one guy who didn't mind meeting up with me a couple of days, but it was always close to sunset. We walked along the beach and chatted up for a while and he was sort of sweet in way. He wasn't necessarily my "type" but he was good company.
As we were turning around to walk back to the part of the beach I was staying at, he grabbed me and started kissing. Aggressively. Horrible, horrible, horrible kisser. Like what have you practiced with dude?!!? A tree??
I'm sure you're thinking, "Well, you're the dummy who tried to meet a guy while on vacation with your FAMILY" Yeah okay I'm not that smart sometimes but hey.. it happens.
Shortly after the awkward silence that followed the tongue attack we walked back to the entrance where he was parked. We stood by his car and talked for a few more minutes and it was dark by now. He grabbed my hand and placed it on the no-no parts that I mentioned I was not looking for in my profile..
One pissed off girl made a dude almost pee his pants. Looking back and remembering his face after the cursing session I had, brings me to tears of laughter. I had called him so many names and pervert was mentioned about 10 times. There was a rental house very close by and another guy came out to see if I was okay. He asked if that guy was bothering me and I said yes. Dude got in his car so fast, I almost didn't see him do it. Then he was OFF. Buh-Bye loser.
Even funnier, he sent me a snap chat a week later saying, "Where'd you go?"
He was blocked within a second.
Can't wait to read your Date Disaster stories!! :)